Malia Tour & Travel, established in 2010 by Nurlin Djuni, an esteemed Indonesian tour and birding guide, calls Palu in Central Sulawesi home. Nurlin Djuni, known for his infectious smile and warm demeanor, embodies humility and kindness, leaving a lasting positive impression on those around him. His extensive expertise in birding, tours, and Indonesian locales further adds to his charm.
The name "Malia" finds its origin in the Sulawesi-endemic bird, Malia (Malia grata), a member of the grasshopper warbler family. The bird's call draws other birds, creating mesmerizing bird-waves.
At Malia Tours, our team comprises seasoned local guides representing over 10 ethnic groups across Indonesia's islands. Additionally, upon request, we offer guides fluent in various foreign languages such as French, German, Dutch, Spanish, Italian, Russian, Arabic, Chinese, and Japanese.
We cater to various preferences by arranging budget-friendly tours that involve traveling via public transport or renting motorbikes.
At Malia Tours, we not only host you but also ensure your safety and comfort throughout your journey.
Company Legality Info
Legal identity:
CV. MALIA TOURS
Commercial identity:
Malia Tours
Year of establishment:
2010
Authorized by:
Department of Law and Human Rights of Republic of Indonesia
Authorization Number:
C-478.HT.03.01478.HT.03.01.TH.2006
Company Registration Number (TDP):
190537902771
Authorized Permit Number of Company (SIUP):
2074/SIUP-K/XII/2010
Registered Number of Tourism office in Palu:
36/27/.10/BP2T/VI/2012
Tax Identification Number (NPWP):
03.115.511.2-831-000
Founder/CEO:
Nurlin Djuni
Stenly - Manado
Webmaster - Paypal Payment - Guide
Stenly manages our website, does graphic design, handles payments through PayPal (bantikdesigns20@gmail.com), and is a professional photographer. He also leads tours in North Sulawesi.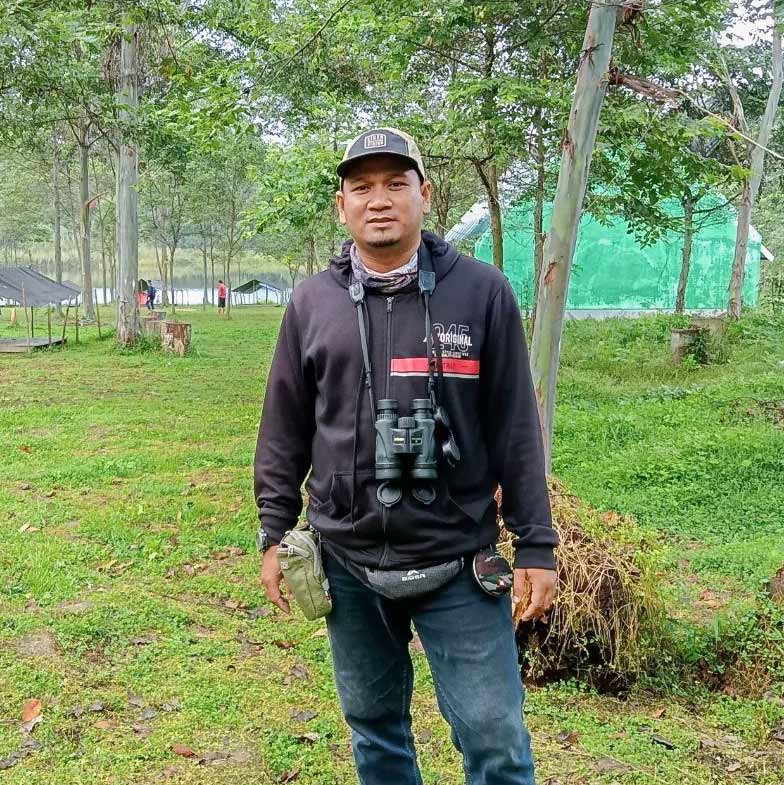 Allin Sawuwu - Palu
Birding Guide
Allin is an expert and reputable Tour Guide who arranges birding trips and wildlife tours through the islands of Indonesia including West Papua, Flores, Bali, Java, Sumatra, Borneo, and Sulawesi itself.
Kasman - Donggala
Birding Guide
Kasman is native to Donggala a small town in Central Sulawesi. He arranges birding trips, wildlife tours, snorkeling trips, and culture holidays around Sulawesi, West Papua, Halmahera, Java, Bali, Sumatra and Borneo.
Rangga - Manado
Photographer - Birding Guide
Rangga, Stenly's son, is our youngest bird guide and a skilled photographer. He graduated from the Tourism Polytechnic School in Manado. His journey in birding began with capturing impressive bird images in Tangkoko during his initial trips.
Eddie - Manado
Tour Guide
Eddie, a seasoned tour guide for over 30 years, has organized diverse tours across Indonesia.  Specializing in birdwatching, snorkeling, diving tours, and cultural holidays, he guides travelers through Indonesia's islands
Oka Dwi - Bali
Birding Guide & Herping
Oka is part of Birding Indonesia and our key partner for Bali and the Lesser Sundas. He organizes birding trips to Sulawesi, Java, Sumatra, and West Papua.
Imam - Jakarta
Birding & Mammals Guide
Imam is an ornithologist and a proficient bird guide with expertise in mammal species. He organizes birding trips and mammal tours across Sumatra, Java, and Bali. Additionally, he has authored field guides for birders exploring the field.
Amin Saleh - Lombok
Birding Guide & Mammals
Nicknamed Ale, is specializing in Herping tours. He focuses on guiding clients interested in exploring reptiles and amphibians across Nusa Tenggara, Sumbawa, and Lombok.  Ale also boasts extensive knowledge of various bird species.
Dian A Purnomo - North Sumatra
Birding Guide & Mammals
Nicknamed Aji, is a knowledgeable guide specializing in birding trips and mammal tours within Gunung Leuser National Park, North Sumatra. He owns charming cottages situated close to the park, nestled within a beautifully landscaped garden.
Charles Roring - West Papua
Tour Guide
Charles, born in Manokwari and originally from North Sulawesi, specializes in West Papua. An artist known for drawing birds, he organizes birding expeditions to Mt. Arfak, Manokwari, Sorong's Klaso valley, Waigeo, and other islands in Raja Ampat. Alongside birding trips, he arranges wildlife tours, nature holidays, snorkeling, and diving adventures.
Malia Tours Network
SAMUEL MASEDUNG , Tour Guides – Tangkoko
Samuel is an expert who live at Batuputih village nearby Tangkoko nature reserve. locally known UNGKE is engaged for the park . In generally Samuel is involved on arranging birding trip and Bird Photography tour to Sulawesi and Halmahera. Included Tangkoko, Dumoga Bone, Gunung Mahawu, Tomohon and Mahawu forest, Makassar – Karaenta forest, Malino and Lompobattang forest, Sangihe island and Talaud Island, Togean islands, Peleng Island, Taliabu island, Morowali and Bungku forest, Halmahera, Moluccas and West Papua
He and his wife (Tati) have sense of taking care, have sharp eyes to scouting the birds. They work from dawn to the late at night.
RUSLI, Rammang – Rammang (South Sulawesi)
Rusli is a calm person, but a very nice guy, He lives with his family in Rammang-Rammang village – Makassar, a native people there, a potential local bird guide with has sharp eyes on scouting birds. He knows where to find Lompobattang Flycatcher, Black-headed Kingfisher, Sulawesi Brown Flycatcher, Sulawesi Pitta and Black-ringed White-eye. We have been teaching how to guide clients successfully and how to show the birds to the clients.
LITO TOMBO , Local Guide – Lore Lindu
Lito is a native people of Besoa valley, and grew up at the village nearby Lore Lindu National Park. He is our local bird guide, with has sharp-eyes on spotting birds, and He knows where to find key species such as Hylocitrea, Geomalia, Purple-bearded Bee-eater, Sulawesi Thrush, Satanic Nightjar at day-roosting, Cinnabar Boobook, etc
ALPIAN MALESO, Tatendeng – Peleng island (Central Sulawesi)
Pian was born on Peleng island, then He traveled out to the North Sulawesi, and studied Biology science program at Manado University in Tondano. After graduated from the University then He decided returning home to Tataba village where He grew up with his family.
Now Pian is an experienced local bird guide He arranges birding trips to remote islands such as Peleng island, Banggai island, Sula island and Taliabu island .
He loves drawing the birds where he scouts, He found Sula Pitta and sub species of Sulawesi Owl on their farm land, and scouting a small group of Banggai Crow, Helmeted Myna, Banggai Fruit-dove, Sula Scrubfowl, Blue-faced Rail and Sula Scops Owl.
MICHAEL F. WANGKO, Beo -Talaud Island (North Sulawesi)
Michael lives in Melonguane, Talaud island. Very good birding guide who knows-well Talaud island, nice manner and likeable. He works hard in the field to find bird species likes Talaud Kingfisher, Talaud Bush-hen, Talaud Rail, and Talaud Pitta are highlight species on the island.
MAHROJI, Binagar – Halmahera (North Moluccas)
Roji is nick name, was born in Java, afterwards his family took him to travel to Halmahera, they joined Indonesian Government program as transmigration group who were presented from Eastern Java island. After several years He married a native lady of Halmahera who live on small village called Binagara, Now they have three kids.
He and his family arrange birding trips on Halmahera. Besides active as a birding guide He is a knowledgeable guide to identify species of tropical plants on Halmahera and Papua.
They live in a simply house, at the border of Aketajawa-Lolobata National Park, therefore He and his family have much time to scout birds, guiding clients to the lek of Wallace's Standardwing Paradise bird and finding-out a chance of Invisible Rail
ADUN BAHRUM, Birding Guide – Cibodas
Adun is a native people of Sundanese who live in Cibodas where his area on arranging birding trip to Gunung Gede National Park, Gunung Halimun, Gunung Sancang and Bogor, from there He will pick up clients from Jakarta then drive back to the airport. .He and his team set up camping gears if requested to stay at camp-site in Kandang Badak or set up a tent near waterfall in Gunung Gede – Prangrango National Park. Adun knows where to find Javan Trogon, Javan Laughing-thrush, Javan Cochoa and other endemic birds on West Java.
Desi Ayu Triana , Tour Guide – Jakarta
Desi lives with her family in Jakarta, graduated from an University in Jakarta (Universitas Negeri Jakarta), studied a conservation of biology, and worked as Birds Specialist, a Science Tutor. A few years later She became as a Birdwatching Guide until know on joining the team of Jakarta birders. Desi arranges birding trip around Jakarta, West Java and other places in Java.
AHMAD KHOLIK, Nimbokrang (West Papua)
Ahmad is an expert-birding guide and a professional Photographer whom We engage on organiziing birding trips and Bird Photography in Nimbokrang and Jayapura (West Papua).
APONG PURWANTO, Fak-Fak (West Papua)
Apong is his common name, He is native people from Java, but has been living for many years in Fak-Fak as one of regency in West Papua, therefore He knows-well where to find birds, Reptiles and Mammals in his area. Apong is involved as our support local guide on arranging bird photography/birding trips and Wildlife tours in Fak-Fak regency.
BERNARD, Wamena – Baliem Valley (West Papua)
Bernard is another Papuan local guide who is involved on organizing Cultural trip in Baliem valley, Beside attending Baliem Valley Festival He introduce to do a short birding trip on highland of Wamena.
IMAN, Tour Guide – Borneo
Iman is engaged for birding trips and wildlife tour in Kalimantan – Borneo, He is an experienced Tour Guide, and an expert in mammals and reptiles. Still active on working with Orang Utan Green Team Community in Pangkalan Bun where is a gateway to do long house-boat tour across Tanjung Puting National Park in Central Kalimantan.
SUBANDI & BUDI, Gunung Kerinci – Kersik Tuo (West Sumatra)
Pak Subandi and Endatno live at Kersik Tuo, a village at the feet of Mount Kerinci. Besides being farmer, they are remarkable local bird guides for Kerinci and Tapan Road. Subandy's house on Kersik Tuo has become home base for worldwide birdwatchers to explore the birds on Mount Kerinci.
KAMAL & TONI, Bukit Barisan (Sumatra)
Toni lives in Liwa and Kamal lives in the village of Panyungkaian. They used to be poacher and have changed their mind if helping birdwatchers to explore birds on Way Titias and Danau Ranau is more fun. They have become our success story to encourage local people to have more awareness on protecting birds and its habitat. They have stopped poaching and have become the best men on the field for organizing logistic and spotting the birds in Way Titias and Danau Ranau. Talking about Sumatran Ground Cuckoo cannot be separated from both of them.
HARI YONO, Way Kambas – Lampung (Sumatra )
Hari Yono is engaged as a local guide who arrange birding trip and wildlife tour in Way Kambas national park – Lampung, Sumatra.
HASRI ABDILLAH, Medan (North Sumatra)
Hasri is an experienced birding guide and arranges wildlife tour in the north Sumatra and Aceh. He arranges birding trip in Gunung Leuser National Park and Gayo highland.
ONY MEDA, Kupang (Timor island )
Ony is a native people of Timor who live in Kupang as the capital city of East Nusa Tenggara province. From there He can arrange birding trips to Timor island.and Rote island. include Camplong, Bipolo, Soe ,Gunung Mutis. Ony is a very familiar with his area, arranegs a classic culture tour across Timor Leste country, and visit hand-silk weaving or locally known Tenun that design with ethnic motif from Timor island.
DANI LANDJAMARA, Waingapu (Sumba Island)
Dani is nick name, a native people of Sumba. He is our local guide who arrange birding trip and culture holidays on Sumba island. He is charming person, his trade-mark makes you are smile.
MAX WAGO, Bajawa (Flores – Komodo island)
Max is a native people of Flores, lives with his family in Bajawa. He is an expert on organizing birding trips in Flores and Komodo island. Meet clients at the airport in Labuan Bajo, then drive to Ruteng where is a hub of birding trip on the island.
SONY & BUCE, Masihulan – Sawai (Seram island – Moluccas)
Sony and Buce are calm person, but very nice men in the field, They was bird hunters for many years ago. But since they joined conservation program, then later they knew how to look after the birds and environment.
Now They are experienced bird guides on Seram island, have sharp eyes to scout Seram Cockatoo, Purple-naped Lory, Long-tailed Mountain Pigeon, Long Crested Myna and Lazuli Kingfisher. Sony discovered many interesting places, especially trails for hiking and adventure-trekking tour for duration more than one day trip. He lives with his family at a small village called Masehulan at the border of between Manusela National Park and Sawai village.